Palm Beach Atlantic University

Contact Information
Palm Beach Atlantic University
901 S. Flagler Dr.
West Palm Beach, FL 33401
561.803.2000
888.468.6722
www.pba.edu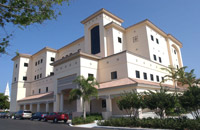 Palm Beach Atlantic University
is a private, independent university located in downtown West Palm Beach, Fla., along the beautiful Intracoastal Waterway. The urban campus is just minutes away from the Atlantic Ocean and the world-class
Kravis Center for the Performing Arts
. The University is dedicated to the integration of Christian principles to prepare students for lifelong learning, leadership and service.
Accredited by
NASM
, the Department of Music is housed in the state-of-the-art Vera Lea Rinker Hall with facilities for performance, technology and instruction. A major in
Popular Music
is one of more than
50 majors
to choose from at Palm Beach Atlantic.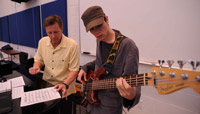 If you are searching for excellent training to become a professional studio musician, producer, sound engineer, arranger-composer, songwriter or worship leader then Palm Beach Atlantic University is for you! In this
Bachelor of Arts
program, you will have hands on experience, small class sizes, individual attention and a faculty committed to your success. The program features two distinctly different tracks: Music Industry or Worship Leadership.
Our alumni are fully prepared to enter the industry and be successful. In fact, the band members of the award-winning group,
Tenth Avenue North
, all attended PBA.
As a student, you will get to perform in the many traditional and contemporary
ensembles
and choirs at the University, including: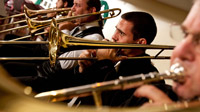 Jazz Ensemble (community ensemble of students and local semi-professional players)
Pop-Rock Ensemble
Guitar Ensemble
Symphonic Band
PBA Symphony (college and community orchestra that performs across Palm Beach County during the season)
Consider yourself at PBA:
With an average class size of 17, professors will get to know you as you discover your unique abilities and dreams.
Take part in impassioned discussions - inside the classroom and out.
Work alongside faculty on research projects or shift your education to a whole new level through internships and study aboard.
Mature spiritually and find God's will for your life.
Express God's love to others through mission trips and Workship, our community service program.
Enjoy the stunning South Florida coastal location with plenty of activities on campus plus cultural, sports and retail destinations at your fingertips.