Greenville College

Contact Information
You should know from the start, Greenville College is different.



Greenville's pristine campus - located 45 miles from downtown St. Louis - was founded in 1892 with the intent to provide a distinctive, Christ-centered college education for men and women. Greenville College is a four-year accredited Christian liberal arts school and was the nation's first school to offer the Contemporary Christian Music (CCM) major. Greenville is home to student-run ventures like Blackroom Records label and WGRN radio, and is the only school with a student-run Christian music festival. Each year thousands of people attend AgapeFest to see acts like David Crowder Band, Skillet, Relient K, and Toby Mac.

Distinctive Academic Programs


Greenville offers a variety of music-related majors like CCM, Music Business, Media Promotions, and Recording Industry. Some of Greenville's graduates have become Grammy-winning artists, producers, managers, and industry executives.
Greenville's Teacher Education program was recently recognized as a model program by the Illinois State Board of Education. Greenville offers 12 undergraduate education majors and two master's programs. Students gain classroom experience early in their major and attain valuable teaching experience throughout the Greenville program.
Greenville has a strong tradition in the natural sciences. Students work with exciting lab equipment like the new DNA Sequencer, and benefit from small class sizes and personal attention from faculty. Approximately 90 percent of Greenville's pre-med students gain acceptance to their first choice medical school.

Experience Genuine Christian Community at Greenville College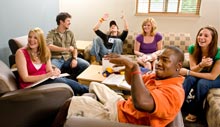 Students at Greenville share time together in small group bible studies, at chapel services, sporting events and campus concerts strengthening their faith and personal relationships. Our Urban Plunge program, a weekend in inner-city St. Louis, gives you an inside view of urban life and culture while you bond with peers and serve at a local food bank, church, or children's home. Many students take advantage of CCCU BestSemester programs to earn college credit while studying at exciting locations around the world.